I have just returned from a fruitful visit to the house with my brother-in-law Eric.
We took various items that we thought would be useful.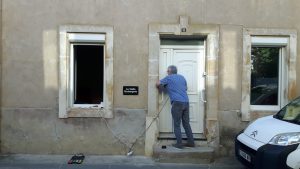 Eric painted the woodwork in hall and lobby. He also did some painting in the living rooms and bathroom.
We also put up a variety of mirrors, pictures, coat hooks and the house name sign.
One day we visited a brocante ( used furniture shop) and I saw a dresser I thought would be ideal for the hall. I purchased it and it was delivered the next week.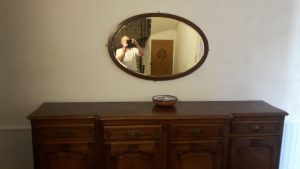 I had been given a Victorian mirror by my friend Vanessa, which went perfectly with the dresser. So it was fixed above it.
Despite the work we managed to get out on our bikes most afternoons, which along quiet roads and the canal is very pleasant.
We were also visited by cousins Caroline and Roger, who last saw the place when they helped me drop of furniture etc. which I stored in their house. Also dropped off was 2 beds and a settee which they had given me.
They took us to a restaurant I had found by the canal in Ventenac en Minervois, La Grillade du Chateau. This provided a very good meal, at a very reasonable price in a delightful tree shaded courtyard overlooking the canal.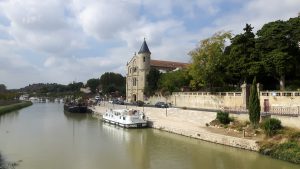 The other highlight was a visit to Eric's friend Cyrille in Nimes. We had an enjoyable meal on their patio. Afterwards Cyrille showed some of the Roman sites at the centre of Nimes, including the fountains and amphitheatre.