I had some things I wanted to take to the house so I decided to drive down. I had a good journey with plenty of sunshine,
It was the week when the heavy rain occurred in the UK but apart from rain overnight rain one night the weather was sunny if sometimes windy.
Arriving on Monday the following day I decided to go the market at Olonzac but go via Homps on the Canal Du Midi.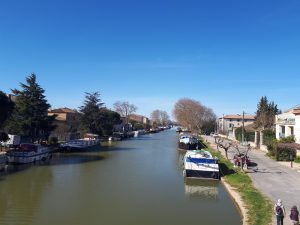 The market was large and busy nearly as big as during the summer. The next day I went for a bike ride via Bize Minervois,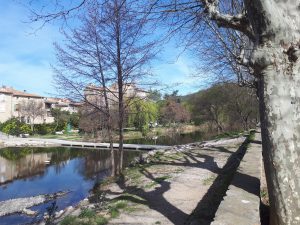 I had brought a travelling cot with me, suitable for a child up to the age of 2, but I also thought a folding bed would be useful. So the next day I visited Narbonne to buy one.
Having done this I drove on to the Mediterranean this time I went passed Narbonne Plage to St Pierre sur Mer, which I had not visited before.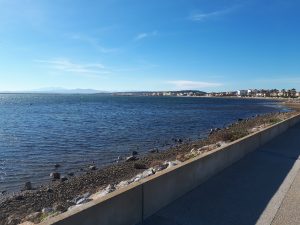 I also attended two conversations groups with members of Argeliers sans frontiers, a mixture of locals, ex pats and holiday home owners.
On Sunday I made my usual visit to Narbonne market.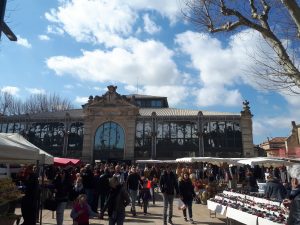 The food market being as busy as ever.
Before I set off for home I purchased a stock of wine.
I had a good drive home until I encountered a accident on the M25.