I recently returned from a visit to France over the New Year.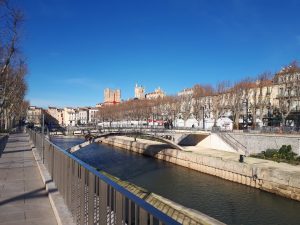 As usual I visited the market at Narbonne on Sunday. Narbonne was in its Christmas decorations. In addition to the Christmas market there was an outside ice rink and a fun fair.
However the most popular place was Les Halles, the indoor market. As well as selling all types of food there are a number of small restaurants and bars.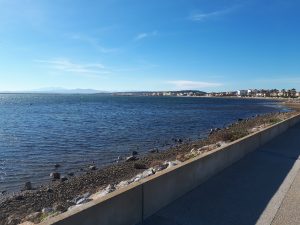 A beach at Gruiissan with the Pyrenees in the background
Later I walked to a large sandy beach.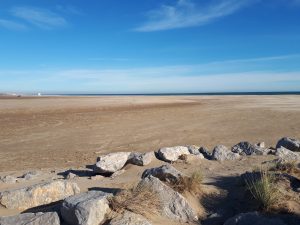 I has bought a second hand bike unseen and was relieved to find the only problem was a rear puncture. With the help of the mechanic in Decathlon I got it fixed. So I now have three push bikes available in the house.
I was also pleased to see that work has started on a new Intermarche by the round about on the main road alongside the village. It seems to going up quickly.
The weather was very sunny but the wind was cold.