I decided to drive to house so I could bring bedding and additional paint.
I started very early on Thursday 21st and reached Langres north of Dijon by 4pm. I stayed at the Hotel de la Poste, a pleasant hotel with a few French quirks. Langres is a walled town perched on a hill.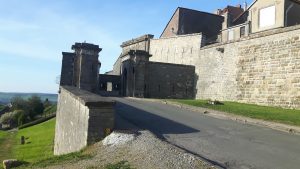 The town walls
I reached Argeliers the following afternoon. On Saturday I stripped the wallpaper from the last bedroom.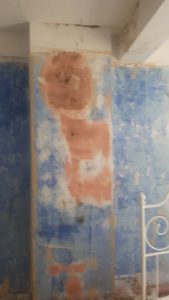 As you can see it hid interesting walls.
Sunday was a beautiful so so I cycled to Salleles d'Aude and from their along the canal to Ginestas for lunch.
The nest few days were mainly spent painting the bedroom which was quite a transformation.
I then had an easy day before starting my return journey.
This time I went west of Paris staying at Bourges and the near the channel at Monteuil sur Mer