I recently returned from a visit to La Vieille Boulangerie with my brother -in-law Eric.
The aim was to put some finishing touches to the house. this was to include mirrors, paintings and lamp shades.
I also thought the barbecue could do with some TLC. Looking at it, the barbecue had deteriorated a lot over the winter. Eric touched it and the front suffered a collapse.
As you can see it was a mess, We searched for a strut to to used to support the new bricks. I found an extra bit from an Ikea bed this was incorporated into the structure.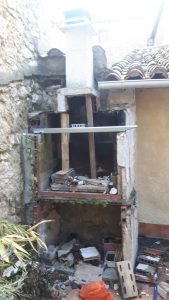 The barbecue was rebuilt and while the cement was drying the other jobs were completed.
We also had time to enjoy the market at Olonzac, visit the refurbished lock complex at Beziers and visit the historic Cathar town of Minerve.
The revived barbecue and courtyard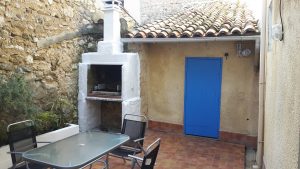 We also became regulars at Le table de 87 and enjoyed a good meal at Le Chat qui Peche.
On the return journey we stayed at St Quentin and enjoyed a meal at a restaurant in a magnificent dining room.