I returned recently from a week in Aude. The weather was mixed but I got around a lot.
On the Tuesday I joined a local group for a walk near the canal, and saw many wild floers among the vineyards.
The following day I cycled to Montouliers, Agel. Aigues Vives and Bize Mivervois 15 to 20 miles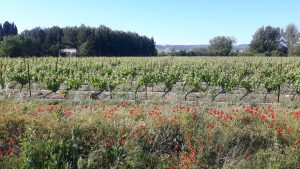 Another cycle ride led to the bar in Salleles D'Aude. A pretty route along the Canal de la Robine with many yellow lilies and trees bursting into leaf.
Friday, the weather being perfect I cycled along the main canal past Le Somail to Ventenac for an excellent lunch at La grillade du Chateau .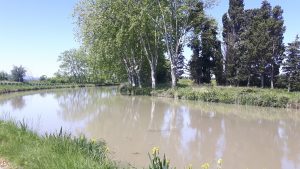 Saturday I cycled to Le Chat qui Peche for an excellent dinner.
It was busy showing how its good reputation is spreading.
Sunday was the usual visit to Narbonne for the market but unfortunately it was quite cool.
I flew back to the UK on Monday.