I flew down from East Midlands, about 2 hours to Carcassonne, then an hour's drive in a hire car to Argeliers.
The weather was not quite as hot as June but still reached 30C most days.
On Sunday I visited Narbonne to wander round the market alongside the canal and then into the covered food market.
On the way back to my car I took this picture.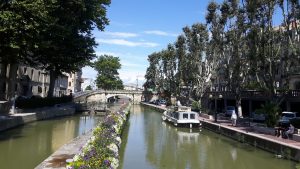 In the evening I dined at Le Chat qui Peche at Port Argeliers.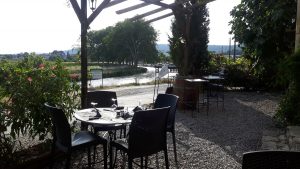 Roquebrun had been recommended to me so I visited on Tuesday. It is built on a southerly facing rock face above the River Orb. This gives it a particularly warm micro-climate. Although it is a steep uphill walk to the Mediterraneam garden.
Unfortunately I was due to return home on the 14th the Fete National or Bastille Day as it is known in Britain.
However there was a celebration the day before including games for the children, a family picnic , a band marching through the village with the children carrying lanterns and finally a dance.#
The lights from the Marie (town hall) did not help this picture.